Cacao Forest played an active part in the 2nd Dominican Chocolate Festival, which took place in Santo Domingo from 8 to 17 July 2022. Here is a rundown of the Festival activities.
On 8 July, the Festival was officially opened in the central atrium of the Agora Mall shopping centre in Santo Domingo. As somewhere where a very varied public would be present in large numbers, this venue was a clever choice.
Over the following two weeks, the Festival was organised around a variety of activities and talks designed to promote Dominican chocolate, raising its profile among the local population and driving home the message of chocolate's value and contribution to the country's economy.
La Fería del Chocolate
The 2nd Dominican Chocolate Festival began with La Fería del Chocolate, which took place from 8 to 10 July, with 17 local chocolate producers from around the Dominican Republic taking part. For the exhibitors, this was a great way of showing off their products to the public. This event was also an opportunity to promote the quality of Dominican cocoa and raise awareness among the general public of the diversity and richness of locally produced chocolate.
Showcasing cacao-associated products
Cacao Forest took part as an event sponsor and also as an exhibitor, using the space at its disposal to present the products derived from cacao-associated crops. This was an opportunity to talk about agroforestry and spread the word among visitors that cultivating cacao trees generates a number of advantages in addition to cocoa production.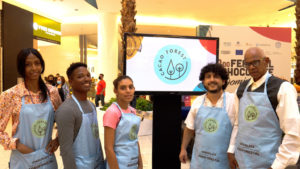 At workshops held during the first week, the Cacao Forest team presented these processed products: barbecue sauce made with sapote, hibiscus jam, ginger biscuits, and turmeric, achiote and ginger powders. It was a total success, creating a lot of interest among the public, and all the products sold out!
The cocoa producers who had taken part in making these products derived from cacao-associated crops were pleasantly surprised by the positive reception they received from the public. An encouraging and very promising commercial success!
Online talks hosted by Cacao Forest
A number of activities also took place from 11 July onwards: talks, tours of chocolate factories in different parts of the country and other activities, all designed to continue raising awareness of the value and potential of Dominican cocoa and chocolate.
As part of this programme, the Cacao Forest project team hosted four online talks on various subjects to do with ensuring the project's progress in the country:
Prevention of Monilinia blight: lessons learned from other agricultural sectors.
The prospects for Dominican cocoa: a European perspective.
Training in cacao agroforestry in the Dominican Republic: drawing up a participatory academic proposal.
The cocoa economy.
We will tell you more about the content of these online talks in a future article.
For more information about Dominican chocolate and the Festival, see the Instagram account @portalchocolate.do and the website www.chocolate.do.